Actinium: the essentials
Actinium is dangerously radioactive. The chemical behaviour of actinium is similar to that of the rare earths, particularly lanthanum. It is found naturally in uranium ores and actinium is 150 times more radioactive than radium.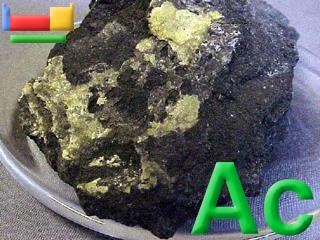 This sample of uraninite contains some about 10-9 grammes of actinium at any one time. Image adapted with permission from Prof James Marshall's (U. North Texas, USA) Walking Tour of the elements CD.
Actinium: historical information
Actinium was discovered by Andre Debierne in 1899 and independently by F. Giesel in 1902, both of whom obtained it while working on separation techniques for rare earth oxides.
Actinium has no biological role.
Actinium is found naturally in uranium ores such as pitchblende (mostly UO2). A tonne of pitchblende might yield just about 0.1 g of actinium.
Abundances for actinium in a number of different environments. More abundance data »

| Location | ppb by weight | ppb by atoms | Links |
| --- | --- | --- | --- |
| Universe | (no data) | (no data) | |
| Crustal rocks | (no data) | (no data) | |
| Human | (no data) ppb by weight | (no data) atoms relative to C = 1000000 | |
The solid state structure of actinium is: ccp (cubic close-packed).
Actinium: orbital properties Read more »
Actinium atoms have 89 electrons and the shell structure is 2.8.18.32.18.9.2. The ground state electronic configuration of neutral Actinium is [Rn].6d1.7s2 and the term symbol of Actinium is 2D3/2.
Isolation
Isolation: coming soon!
WebElements chemistry shop
You can buy periodic table posters, mugs, T-shirts, periodic table fridge magnets, games, molecular models, and more at the WebElements periodic table shop