Helium - 2He: the essentials
Helium atoms have 2 electrons and the shell structure is 2. The ground state electronic configuration of neutral helium is 1s2 and the term symbol of helium is 1S0.
Helium: description Your user agent does not support the HTML5 Audio element.
Helium is one of the so-called noble gases. Helium gas is an unreactive, colourless, and odourless monoatomic gas. Helium is available in pressurised tanks.
Helium is the second most abundant element in the universe after hydrogen. α-particles are doubly ionised helium atoms, He2+.
Helium is used in lighter than air balloons and while heavier than hydrogen, is far safer since helium does not burn. Speaking after breathing an atmosphere rich in helium results in a squeaky voice (don't try it!).
Helium is present in the atmosphere at about 0.0005% (1 part in 200000) by volume and is an important component within hydrocarbon gases in the USA. Its origin in these gases is traced to the decay of radioactive elements in rocks.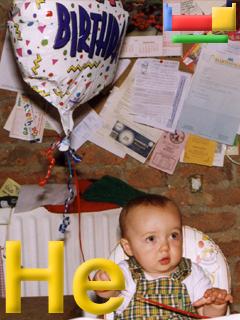 Emma's first birthday balloon is filled with helium and so rises in air.