Zinc - 30Zn: the essentials
Zinc atoms have 30 electrons and the shell structure is 2.8.18.2. The ground state electronic configuration of neutral zinc is [Ar].3d10.4s2 and the term symbol of zinc is 1S0.
Zinc: description Your user agent does not support the HTML5 Audio element.
Zinc-deficient animals require 50% more food to gain the same weight of an animal supplied with adequate amounts of zinc. Zinc is not particularly toxic and is an essential element in the growth of all animals and plants.
Plating thin layers of zinc on to iron or steel is known as galvanising and helps to protect the iron from corrosion.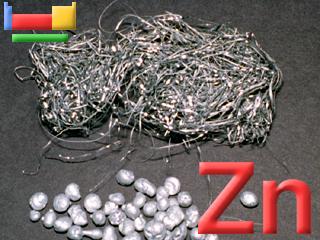 Zinc is a bluish-white, lustrous metal. It is brittle at ambient temperatures but is malleable at 100 to 150°C. It is a reasonable conductor of electricity, and burns in air at high red heat with evolution of white clouds of the oxide.
The picture above shows the result from burning a mixture of zinc metal powder and sulphur (only to be demonstrated by a professionally qualified chemist).