This length refers to the internuclear separation between the atoms in the element.
Most data are abstracted from reference 1 but some missing values are taken from the primary literature. Lengths do depend upon the allotrope, or form of the element, to some extent. Thus, the C-C length in graphite is 142.6 pm whereas the C-C length in diamond is 154.1 pm. While values are given for the Group 18 gases, these are separations, not bond lengths.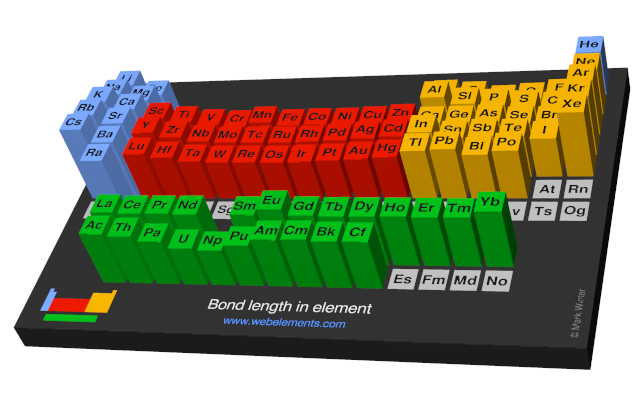 Units
pm
Notes
To convert from pm (picometres) to Å (Ångstroms), divide by 100.
Literature sources
L.E. Sutton (ed.) in Table of interatomic distances and configuration in molecules and ions, Supplement 1956-1959, Special publication No. 18, Chemical Society, London, UK, 1965.
Explore the element of your choice through this periodic table.
1
2
3
4
5
6
7
8
9
10
11
12
13
14
15
16
17
18

1

2

3

4

5

6

7

8

9

10

11

12

13

14

15

16

17

18

19

20

21

22

23

24

25

26

27

28

29

30

31

32

33

34

35

36

37

38

39

40

41

42

43

44

45

46

47

48

49

50

51

52

53

54

55

56

*

71

72

73

74

75

76

77

78

79

80

81

82

83

84

85

86

87

88

**

103

104

105

106

107

108

109

110

111

112

113

114

115

116

117

118

*Lanthanoids
*

57

58

59

60

61

62

63

64

65

66

67

68

69

70

**Actinoids
**

89

90

91

92

93

94

95

96

97

98

99

100

101

102