Chem. Commun.
RSC - Chem. Commun. latest articles
Updated: 1 day 4 hours ago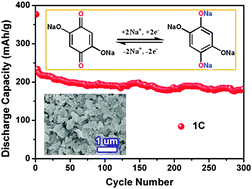 Chem. Commun.
, 2015,
51
,1446-1448
DOI
: 10.1039/C4CC08220F, CommunicationZhiqiang Zhu, Hao Li, Jing Liang, Zhanliang Tao, Jun Chen
The disodium salt of 2,5-dihydroxy-1,4-benzoquinone has been prepared and proposed as an anode for rechargeable sodium ion batteries for the first time.
The content of this RSS Feed (c) The Royal Society of Chemistry
Chem. Commun.
, 2015,
51
,1442-1445
DOI
: 10.1039/C4CC07411D, CommunicationHongde Xiao, Kai Xin, Haifang Dou, Gui Yin, Yiwu Quan, Ruiyong Wang
A very fast-responsive fluorescent probe for imaging mitochondrial ClO
-
was prepared. The probe was successfully applied in the imaging of endogenous ClO
-
in the mitochondria of RAW 264.7 cells and living nude mouse.
The content of this RSS Feed (c) The Royal Society of Chemistry