Chem. Commun.
RSC - Chem. Commun. latest articles
Updated: 1 day 5 hours ago
Chem. Commun.
, 2015,
51
,1421-1424
DOI
: 10.1039/C4CC08800J, CommunicationTakaya Sato, Yusuke Sato, Kenta Iwai, Shusuke Kuge, Seiichi Nishizawa, Norio Teramae
Peptide nucleic acid (PNA)-thiazole orange (TO) conjugates are developed as fluorescent probes capable of selective recognition of 3[prime or minute]-overhanging nucleotides of siRNAs for an accurate analysis of the siRNA delivery process.
The content of this RSS Feed (c) The Royal Society of Chemistry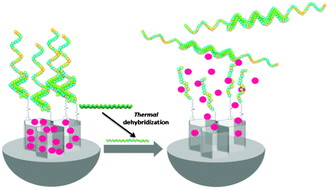 Chem. Commun.
, 2015,
51
,1414-1416
DOI
: 10.1039/C4CC08306G, CommunicationLluis Pascual, Isabel Baroja, Elena Aznar, Felix Sancenon, M. Dolores Marcos, Jose Ramon Murguia, Pedro Amoros, Knut Rurack, Ramon Martinez-Manez
New hybrid oligonucleotide-capped mesoporous silica nanoparticles able to detect genomic DNA were designed.
The content of this RSS Feed (c) The Royal Society of Chemistry