Sciencebase
Science blog from freelance science journalist David Bradley
Updated: 45 min 25 sec ago
Yesterday evening we were all Monty Python Dead Comet Sketch over ISON. It was pining for the Oort, this comet had ceased to be, it was no longer trailing up the blazes…etc etc
But, this morning, I wake to hear news that this comet has actually ceased to not be.
Will this be the most viewed animated gif of Black Friday once the US wakes from its turkey-induced tryptophan coma (#deceivedwisdom by the way) that they refer to generously as Thanksgiving?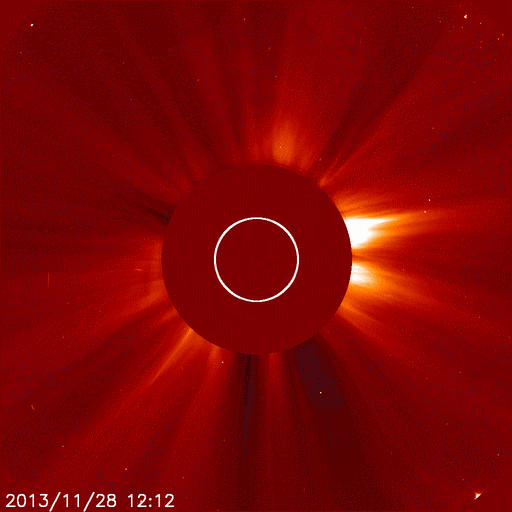 More on what we might expect from comet ISON via NASA and SpaceWeather.
Dead Comet Sketch is a post from the science blog of David Bradley, author of Deceived Wisdom Subscribe to our Email Newsletter
Touch Press has come up with the perfect gift for the chemist with an iPad in your life with The Elements in Action app. Great videos, neat explanations, easy to use.
Wonderful demonstrations showing why you are not allowed to take mercury and gallium on your holiday flight, a foil "tank" of air floating on sulfur hexafluoride gas, and a quick test to show your titanium tools are genuine and not iron-based fakes…there's also gallium the element that would have been Salvador Dali's favourite we suspect, it melts on a hot day, although on a really hot day he might have enjoyed rubidium too. Then there's the bromine watch…
TouchPress also debunks a couple of bits of pieces of chemical deceived wisdom. For instance, we're all taught that iodine sublimes when heated, leaping straight from the solid to the gas phase, but the app video shows a distinct liquid phase just before clouds of iodine vapour appear. Caesium does react violently with water, but not quite as cataclysmically as your chemistry teacher may have led you to believe.
The Elements in Action iPad, iPhone & iPod app – Touch Press.
The sound of cicadas and crickets in the outdoor video clips may be a little distracting but adds to the authenticity of the sodium or liquid nitrogen in the lake!
Chemist with an iPad is a post from the science blog of David Bradley, author of Deceived Wisdom Subscribe to our Email Newsletter
According to Brian Clegg, writing about "bromide" in Chemistry World this week. Bromide salts had an early role in reducing the impact of epilepsy and seizures, which were at the time thought to be caused by an over-active libido and more specifically masturbation.
"Potassium bromide was linked to the reduction of sexual passions," writes Clegg. "It doesn't seem unreasonable, then, that potassium bromide might be used in an attempt to reduce sexual tension in circumstances where men were isolated for long periods, hence the story of bromide in the tea [given to soldiers during the Great War]".
Personally, I recall some time in the 1990s during the time I was contributing chemistry news and features to New Scientist magazin, I had a call from a researcher at one of the big UK soap operas at the time (no longer on our screens, oh alright it was Brookside).
The scriptwriters had a character (Sinbad) who was being overlibidinous and the researcher wanted to know if there were anything they might have his girlfriend add to his tea to temper his desires. They'd heard about "bromide", but that does seem still to be considered something of a myth, as Brian explains.
I don't remember what I actually told the researcher they might use, but suggested whatever it was would complicate the "humourous" plotline by introducing an element of pharmaceutical fraud, whereby the girlfriend would have to get hold of something prescription only (an antidepressant/sedative with libido-reducing side-effects, for instance).
I think in the end the scriptwriters were told to find another way that Sinbad's girlfriend might quell his desires…given that he was the soap's windowcleaner maybe they had her slap about the place with a wet squeegee…
Bromide in yer tea? Pull the other one is a post from the science blog of David Bradley, author of Deceived Wisdom Subscribe to our Email Newsletter