Sciencebase
David Bradley science journalist, photographer, musician
Updated: 21 hours 50 min ago
Wind-chill, windchill, wind chill factor, wind chill index is an estimate of how cold you will feel at a given air temperature when there is a wind blowing. It is a popular tool used by weather presenters to make you feel worse about going outside when it's cold and windy! Seriously, if, for example, the reported air temperature (as measured by a thermometer housed in one of those white boxes with the grills, a Stevenson screen, or shelter) is -7 Celsius and the wind is blowing at a steady 8 km/h, then it will "feel" like it's -11 Celsius. But why and how does one get from -7 to -11, 4 degress C cooler?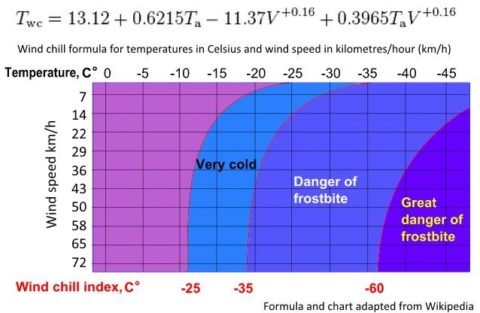 Here's the physics and formula courtesy of Wikipedia: "A surface loses heat through conduction, convection, and radiation. The rate of convection depends on the difference in temperature between the surface and its surroundings. As convection from a warm surface heats the air around it, an insulating boundary layer of warm air forms against the surface. Moving air disrupts this boundary layer, or epiclimate, allowing for cooler air to replace the warm air against the surface. The faster the wind speed, the more readily the surface cools." Additionally, skin sweats so air blowing on exposed sweaty skin will cause cooling by evaporation, but the likelihood of you sweating and then exposing your skin when you're outside and it's -7 Celsius is quite low…
The calculation used by the US and UK weather forecasters and meteoroligists for wind chill is quite complicated looking but relatively easy to implement with a modern calculator, although different regions use different units F vs C, mph vs kmh, so you have to make sure you're using the appropriate formula. A neat chart (by RicHard-59 on Wiki) saves you the trouble of doing the calculations yourself, if you're a common or garden weather presenter.
And, here's a nice video description of wind chill that I first saw mentioned on the Free Technology for Teachers blog:
For pedants in Australia, it's rare that a wind chill is observed, you might want to try "heat index" instead… ;-)
How to calculate wind chill is a post from the science blog of science journalist, photographer and musician David Bradley Subscribe to our Email Newsletter
By now, you've probably seen the astounding quadruped robots that have been built and demonstrated by Boston Dynamics. These machines run like four-legged animals and don't seem to mind when their human companions give them a kick…hold on…give them a kick? Is that really the best example to set impressionable people watching the videos?
One could argue that it's a machine, it doesn't "mind" being kicked, if that demonstrates just how robust the software and servos are to disturbances in the forces around them. But, it is still quite a disconcerting thing to see. The next generation might be togged up with heads and fur, for instance, to make them look even more like animals, that would make for even more uncomfortable viewing, I reckon. And, then, of course, ultimately, such a robot might be endowed with artificial intelligence, sentience, even. Would kicking a bot that knows what you're doing be moral?
This also raises another question. If we build sentient robots, would it be sensible to give them pain receptors? Would we want them to know to avoid things that might hurt. And, Asimov aside, might a robot in pain having been kicked feel that retaliation was the ethical thing to do from its perspective?
Is it okay to kick a robot? is a post from the science blog of science journalist, photographer and musician David Bradley Subscribe to our Email Newsletter
Not quite in the words of the 1978 Genesis hit "Follow you, follow me", I took a look at Twitter dashboard and found that there is a neat Top 9 (don't ask) of twitter users who a lot of people who follow @sciencebase also follow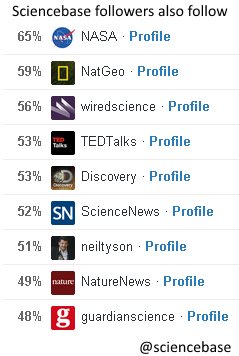 @NASA · @NatGeo · @wiredscience · @TEDTalks · @Discovery · @ScienceNews · @neiltyson · @NatureNews · @guardianscience
Follow me, follow them is a post from the science blog of science journalist, photographer and musician David Bradley Subscribe to our Email Newsletter
My choral friend Jo mentioned making "poisonous" orange juice when she was a nipper and giving it to a boy she and her friends didn't like. Apparently, they crushed up some bits of plants, including foxgloves, which of course contain digitalin, the heart drug. Add enough of that to his OJ and they could've been in serious trouble. Just as well there was no belladonna (deadly nighshade) or monkshood (Devil's Helmet or wolfsbane).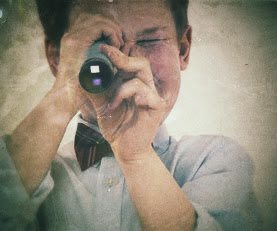 Anyway talking of serious trouble…as a kid I was always messing around with magnets and motors, batteries and bulbs, iron filings, little circuits, broken radios (well they were broken after I'd messed around with them), watches, telescopes, magnifying glasses and stuff. But, by aged 9 or 10 I'd taken my first foray into chemistry. I'd got hold of a little stoppered plastic vial and mixed up some washing-up liquid and water and added some of the 3-in-1 oil I usually drizzled on to the chain and into the little holes on the underside of my bike. I don't remember what I was trying to do with this, my first chemistry experiment. Obviously, the mixture would have formed some kind of mucky emulsion. Hashtag #JuvenileAlchemy.
Anyway, I remember some snitch reported me to my teacher when they saw me shaking my vial behind the bike sheds (no, that is not a euphemism!). I got hauled in to see the headmaster, I think my parents were dragged in too. Of course, the vial with its gloopy contents was confiscated but not before the headmaster had a good sniff. I'm not sure what any of the adults thought I had been up to. I was just naively doing chemistry. Maybe they thought I was abusing solvents or sniffing glue or something, but at age 9 I didn't even know that was a thing…
I almost certainly had an idea from a science library book, I used to read three or four each evening at that age. Anyway, the experience put me off chemistry for years and so I went back to messing with magnets (again, not a euphemism) and I seem to remember trying to make an electromagnet from a chunk of steel from my Dad's toolbox and a bit of insulated wire that I jabbed into the wall socket…oh dear…did I mention I was a bit naive, almost electrocuted myself, needless to say. Still, at least I didn't try to give anyone a heart attack with poisonous orange juice, eh?
*The photo isn't me, by the way…
My first chemistry experiment #UnRealTimeChem is a post from the science blog of science journalist, photographer and musician David Bradley Subscribe to our Email Newsletter
Charles Darwin's IBM computers
There are lots of quotes around attributed to the great and the good throughout the years, but often these are anything but direct quotes and in some cases turn out to have far more intriguing origins.
For example, the quote often attributed to Thomas John Watson, Sr. (1874–1956) who was chairman and CEO of International Business Machines (IBM) in 1943 had him as saying:
"I think there is a world market for maybe five computers."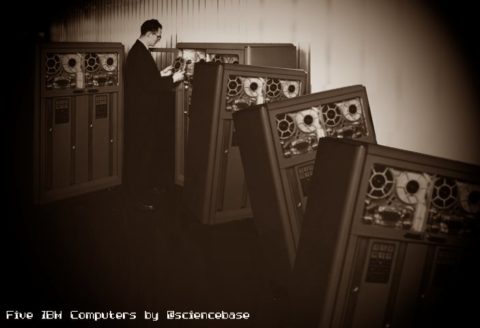 There are no recorded speeches nor documents that providence evidence for this as a quote from Watson. Indeed, the earliest mention of it was on the Usenet in 1986, although that may well have come from an article in the San Diego Evening Tribune by Neil Morgan, who wrote: "Forrest Shumway, chairman of The Signal Cos., doesn't make predictions. His role model is Tom Watson, then IBM chairman, who said in 1958: 'I think there is a world market for about five computers.'
It seems that Sir Charles Darwin (grandson of the naturalist) who was head of the UK's computer research centre, the NPL (National Physical Laboratory) is probably the true father of the thought of this particular predictive text when he said in 1946:
"it is very possible that … one machine would suffice to solve all the problems that are demanded of it from the whole country"
But, The Yale Book of Quotations may have the truth about this particular misquote. Watson did indeed mention a market for only 5 computers, at IBM's annual stockholders' meeting in 1953, but he was referring specifically to the IBM 701 Electronic Data Processing Machine which had been touted to 20 potential clients but Watson reported that they only expected to get orders for five (they actually sold 18).
More on the myth on Wiki and on the Freakonomics site.
Predictive text: Darwin's computers is a post from the science blog of science journalist, photographer and musician David Bradley Subscribe to our Email Newsletter
Don't worry, you're not going to be Rickrolled, despite the song title ;-)
Songs of Experience by Dave Bradley
Words and music by Dave Bradley, vocals, guitar, bass, percussion dB
Bait and switch
There was a key under-the-mat,
but you changed all the locks
There was a note deep in your pocket,
but no stamp for the box
I saw a light up in your room,
but your heart was like stone
And though you strayed out of the gloom,
there was nobody home
There was a seed inside the pot,
but no water for the bloom
There was food there on the table,
but no taste in the room
You wore a smile and a little more,
but you cried on the inside
And though you veil all that you feel,
there's no place left to hide
When you turn about face
I can't stay in that place
Switch and bait me
I know that you're cunning
When I find the right pace
It's the end of the race
Bait and switch
is the game that you're running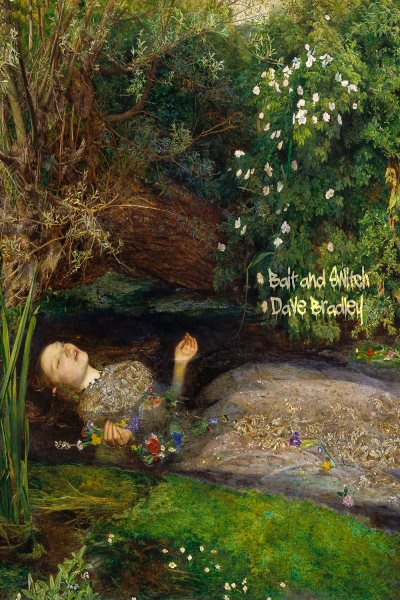 Bait and Switch – a song is a post from the science blog of science journalist, photographer and musician David Bradley Subscribe to our Email Newsletter
One of my favourite riffs from one of my favourite guitar players, the rarely revered Andy Summers, he has a long, long history dating back to the psychedelia of the 1960s (Soft Machine and many others, much of it LSD fuelled according to his autobiography). Summers is best known for his time with The Police of course, alongside Sting (who hails from my hometown near Newcastle and was given his nickname by my sister's friend's Dad!) and drummer Stewart Copeland.
Anyway, this is me doubling vocals (one at the original song pitch, falsetto in the background and the melody again an octave down on the verses). Played the Telecaster parts, and bass guitar but used a downloaded MIDI drumtrack to keep better time than any drummer, even Copeland (Sting joke from Ghost in the Machine era Montserrat recordings).
Posting here as preview sample while licencing on Loudr FM goes through for posting cover to iTunes etc.
The original song was in the UK charts in 1979. It was based on that video I mentioned actually composed in Dm not C#m and I reckon they notched it down a semitone in the studio to give Sting's high voice a little more headroom…for me I'd need to notch it down another couple of semitones to get the full high without screeching.
Bottle on the beach photo CC licence via Flickr adapted c/o Jenni C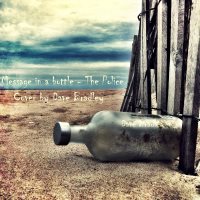 Message in a Bottle – The Police (Cover song) is a post from the science blog of science journalist, photographer and musician David Bradley Subscribe to our Email Newsletter
Several people asked me about the odd phenomenon that in these here parts sunrise gets later each day until early January even though the days themselves get longer after the winter solstice.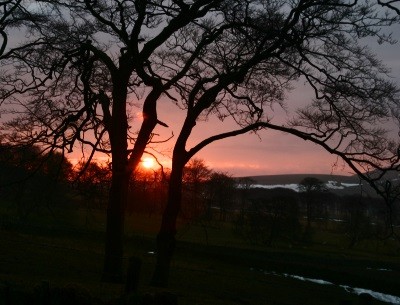 From EarthSky: The winter solstice always brings the shortest day to the Northern Hemisphere and the longest day to the Southern Hemisphere. But, the tardiest sunrise doesn't coincide with the day on which the sun is above the horizon for the shortest time, least daylight hours; similarly, the latest sunsets don't happen on the day of greatest daylight.
Why is this? The main reason is that the Earth's rotational axis is tilted to the plane of our orbit around the sun. If it were perpendicular to the orbital plane we wouldn't perceive this discrepancy.
A secondary reason is that the Earth's orbit is eccentric (an ellipse, like a squashed circle, with the centre of the sun slightly off its centre), Earth travels fastest in January and slowest in July. Clock time gets a bit out of sync with sun time – by about 30 seconds each day for several weeks around the winter solstice. Adapted from Latest sunrises for mid-northern latitudes in early January.
Additionally, says Royal Museums Greenwich, the longest natural day is about 51 seconds longer than the shortest. But, for clocks to be useful, days need to be fixed in length. We fix them on the average, or mean, length of a natural day (hence Greenwich Mean Time). By averaging out the length of each day like this, the clock time at which the sun reaches its highest point slowly drifts back and forth as the months progress. There is a knock-on effect on the times of sunrise and sunset. The earliest sunrise occurs a number of days before the longest day and the latest a number of days after the shortest.
Originally posted 3rd January 2014
Sunrise still later after Winter Solstice is a post from the science blog of science journalist, photographer and musician David Bradley Subscribe to our Email Newsletter
Depending on whether or not you're a pessimist or an optimist, either the aphorism "no news is good news" holds true or the maxim "all publicity is good publicity" is more accurate. But, could whether news is good or bad be self-perpetuating, particularly in terms of business and financial news?
UK researchers have analysed the impact of the financial crisis that began in 2008 by looking at news output in terms of company chair financial statements for the period 2006 to 2010 for financial companies. The regression analysis by Khaled Hussainey of the Plymouth Business School, at the University of Plymouth and colleagues suggests that overall UK financial companies disclose more good news information than bad news information. However, they also found that the crisis affected the financial reporting of good news and bad news. "After controlling for other firm characteristics and corporate governance mechanisms, UK financial companies disclose more bad news information during and after the crisis period, while they disclose less good news during these periods."
Economists have predicted that the financial crisis of 2008 may well have a more detrimental impact in the long term than the so-called Great Depression of the 1930s. The crisis began in the USA when bad debts sold and then used as collateral for yet more borrowing ultimately led to a massive collapse of value across the global economy. While the notion that one should "neither a borrower nor a lender be" is perhaps unrealistic in the modern world, and probably always was, the crisis led to the failure of countless companies from small enterprises to massive banking conglomerates and many others. Governments around the world are still clamouring to prove that they now have a grip on growth but in the wake of multi-billion bank bailouts they are still foisting enormous austerity measures on the public through swingeing cuts to public services and more. Indeed, some regions are essentially bankrupt and however you look at it deficits that reach into the trillions suggest that the concept of anything having a real economic value has been lost entirely in some sense.
The problem that the Plymouth team has uncovered is that the 2008 "crisis" can be used and is being used as an external scapegoat for internal problems in many companies. The issue probably extends to governments. It is interesting to watch those in power being flown by private jet and chauffeured in luxurious cars from meeting to meeting will a well-stocked mini bar and buffet in every hotel room. Meanwhile, poverty was never made history and millions, if not billions, of people continue to suffer disease, lack of food, poor living conditions. What was that about pessimists and optimists? Your glass is it half full or half empty?

Said Ressas, M. and Hussainey, K. (2014) 'Does financial crisis affect financial reporting of good news and bad news?', Int. J. Accounting, Auditing and Performance Evaluation, Vol. 10, No. 4, pp.410–429.
No news is good news is a post from the science blog of science journalist, photographer and musician David Bradley Subscribe to our Email Newsletter
In case you didn't know, I'm a science journalist by day, a photographer on my days off and a musician by night. I've written and recorded a few songs over the last couple of years, which you can get hold of from the usual download sites: iTunes, BandCamp, Google Play, Pandora, Deezer, Rdio, Amazon mp3, Spotify, SoundCloud etc. Lots of original songs and various cover versions licenced through Loudr for iTunes etc.

Here's a very short list of a few of the musicians, bands and artists I admire: Athlete, America, The Beatles, David Bowie, Kate Bush, John Denver, Elbow, Peter Gabriel, Led Zeppelin, Gerry Rafferty, R.E.M., Nile Rodgers, Rush, The Smiths, there are many others. Apparently, I occasionally sound like a Geordie Glenn Tilbrook (that's according to the Manchedelic Roger Waters better known as Dek "MonoStone" Ham), and sometimes a blend of Steely Dan, Peter Gabriel, Phil Collins, Sting and David Bowie…according to various wiseguys and wisegals on the songwriting forums…hmmm.
Dave Bradley Music is a post from the science blog of science journalist, photographer and musician David Bradley Subscribe to our Email Newsletter
I say theory, he says theory but what do you think we mean when we talk about theories, like Big Bang theory, the theory of evolution by natural selection, the theory of relativity (both general and special) and quantum theory. Well, we don't mean it's "just" a theory, like some vague idea a bloke down the pub came up with to explain the woes of the world, it's not some conspiracy theory. If only we could've been more positive and used another word without the negative connotations of the man on the Clapham omnibus' conception of the word theory…well, that's the theory anyway.
Science is not just a theory is a post from the science blog of science journalist, photographer and musician David Bradley Subscribe to our Email Newsletter
Songs of Experience by Dave Bradley
It's a quarter of a century since the fall of the Berlin Wall, but still lives are put on hold by those who will divide and subjugate us. Isn't it time, once again, to reject their calls, put them on hold?
Put them on hold
I made the call that I'm a free man
I talked wild of spirit, throughout the land
I saw the wonders that were open to mankind
I held up hope and love and life as gifts that we might shine
Then days became much darker than the night
The hope we had soon vanished from our sight
The love we took for granted we'd never find
Life fading fast as fear our hearts would bind
We put you on hold
Despite your objections
Despite your deflections
You will do as your told
When you're out in the cold
No time for reflection
No more defection
We bring you into the fold
I dreamed that I could be a free man
I wondered if my spirit just might find a plan
I saw with wonder how despair crushed all mankind
No hope to hold, no love nor life to help us shine
We put you on hold
Despite your objections
Despite your deflections
You will do as your told
When you're out in the cold
No time for reflection
No more defection
We'll drag you into the fold
But, surely we can this hate denounce
We can this fear renounce
If there's one ounce, one single ounce of decency left inside
We put them on hold
Despite their objections
Despite their deflections
We come in from the cold
We tear down the walls
At last, On reflection
from your hate we're defecting
We reject all your calls
We reject all your calls
From my mini-album Songs of Experience
Words & Music by David Bradley
Vocals, instrumentation and mixing by DB
Cover art adapted from a photo by Saxon Moseley. More information about the photo here j.mp/tacheles-berlin-89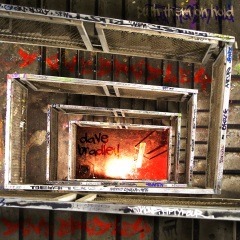 Now with added belltree, but no cowbell
Put them on hold is a post from the science blog of science journalist, photographer and musician David Bradley Subscribe to our Email Newsletter