Sciencebase
Science blog from freelance science journalist David Bradley
Updated: 19 hours 30 min ago
Okay…you know people always say that travelling back in time, with a "time machine", wormhole or whatever, would be impossible because if you could go back in time, you might bump into your grandparents before your parents were conceived and somehow your presence prevents one of the conceptions that lead to your parents and ultimately you so that you are never born so are never "in the future" so that you could never use that time machine to travel back and stymie the conception of one of your parents, so you would be born and so could travel back in time and…you get it…it's a PARADOX. They even made a whole movie franchise from it starring Michael J Fox, after all.
But, here's the the thing. If you were able to travel back in time and somehow stopped your mother giving birth to you so that you never travelled back in time then, the timeloop might alternatively close so that you'd be stuck in the time before your birth with no time machine…
Anyway, enough of that, here's an amusing video showing most of the continuity and a few metaphysical bloopers in Back to the Future
Time travel paradox is a post from the science blog of David Bradley, author of Deceived Wisdom Subscribe to our Email Newsletter
I know some of you will be starting to think about Christmas already…don't worry, that's fine. I've got a little sing-along-a-Dave treat coming up for you with which you can begin the "celebrations". I might even accept gifts this year, as long as they're of the 40% distilled C2H5OH-H2O flavoured azeotrope variety, preferably from Northern Ireland rather than Scotland.
Anyway, if you are starting preparations early (it's 15th November folks, no need to rush), here's a little festive warning you can cut out and pin to your noticeboard or stick to your fridge with that Xmas pudding fridge magnet you got in your stocking in 1997, you know the one that falls off when you try to stick anything heavier than a dead fly's wing with it…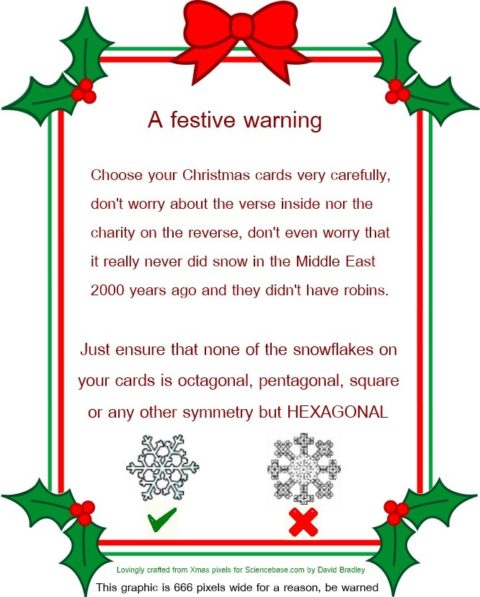 You can get 12-armed snow crystals that are essential a double 6 with a twist and triangular crystals are like compressed hexagons. If I remember, rightly it's all in Deceived Wisdom where I quote from the main man in this area http://www.its.caltech.edu/~atomic/snowcrystals/class/class.htm
A pre-festive warning is a post from the science blog of David Bradley, author of Deceived Wisdom Subscribe to our Email Newsletter