Dalton Transactions
RSC - Dalton Trans. latest articles
Updated: 1 day 8 hours ago

Dalton Trans.
, 2013,
42
,2792-2802
DOI
: 10.1039/C2DT31264F, PaperFabio Marchetti, Guido Pampaloni, Calogero Pinzino, Filippo Renili, Timo Repo, Sirpa Vuorinen
Mechanistic aspects of the initial stages of the ring opening polymerization of
rac
-lactide promoted by M(O
2
CNR
2
)
4
have been outlined showing that different pathways occurs and justifying the lower catalytic performances of Ti(O
2
CNR
2
)
4
with respect to the corresponding Zr and Hf species.
The content of this RSS Feed (c) The Royal Society of Chemistry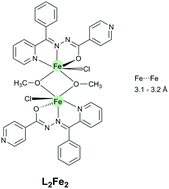 Dalton Trans.
, 2013,
42
,2803-2812
DOI
: 10.1039/C2DT31751F, PaperRahman Bikas, Hassan Hosseini-Monfared, Giorgio Zoppellaro, Radovan Herchel, Jiri Tucek, Anita M. Owczarzak, Maciej Kubicki, Radek Zboril
A novel metallorganic complex mimicking non-heme binuclear ferric proteins was synthesized and exhibited an extremely small
J
value. The structural parameters responsible for such drastic quenching of the magnetic communication were dissected by density functional theory.
The content of this RSS Feed (c) The Royal Society of Chemistry