Chemistry World blog (RSC)
Updated: 11 hours 43 min ago
Last week the youth section of the Royal Flemish Chemical Society (Jong-KVCV) held its biennial Chemistry Conference for Young Scientists (ChemCYS) in Blankenberge, Belgium. For many attendees it will have been their first experience of a conference. And it's a great way to start. Blankenberge was cold and miserable but the warmth of the people inside certainly made up for the weather. Masters students, PhD students and postdocs can present their work in a non-intimidating and supportive environment.
Originally set-up as an event for Belgian groups to network, the conference has been steadily growing in size over the past few editions. This year it made an impressive leap in the variety of nationalities attending the conference with delegates from 37 different countries (only nine countries were represented in 2012). I met people from Costa Rica, Algeria and Taiwan to name a few of the furthest places delegates had come from. Considering that until 2008 the conference was held in Dutch, before changing to English in 2010, this is a huge achievement. Hanne Damm, the president of Jong-KVCV says the internationalisation of the conferee can chiefly be credited to the President of ChemCYS 2014, Thomas Vranken, securing recognition of the conference from IUPAC, EuCheMS and EYCN.
The increase in delegate numbers has come alongside a commitment to high standards. Presentation abstracts were peer reviewed and were selected on merit rather than the first come, first served selection applied in previous years. Each of the six subject areas (analytical and environmental chemistry, biochemistry and biotechnology, inorganic chemistry, advanced materials, organic and medicinal chemistry, and physical and theoretical chemistry) had a panel of judges from both academia and industry who chaired and presided over the presentations and posters in each area. 
But the conference wasn't just about posters and presentations. Santiago Gómez Ruiz gave an informative workshop on the art of scientific writing where he explained his top tips for putting a research paper together. His advice included: 'self-cite only when necessary', 'don't include waste words in your title' and 'never include something in your methods section that is crucial for understanding a paper' – I couldn't agree more! 
Rather appropriately, as it was just before an evening when delegates may have indulged in a glass or two of beer, Klaus Roth gave a fascinating talk called 'Beer – from the first glass to a hangover.' In 50 minutes he covered everything from how beer is made, the compounds behind the classic bitter flavour of beer and why something that can make you feel so good that evening can leave you suffering the morning after.
The conference organisers are a team of 20, who are PhD students and postdocs themselves. They voluntarily organised the conference in their spare time, and will soon start planning for 2016. Holding the conference in winter on the edge of a Belgian seaside resort is instrumental in keeping everyone together and maintaining ChemCYS' cosy atmosphere but the current venue has now reached capacity: 'maybe they could build an extra building for us?' jokes Christophe De Bie, the president of KVCV. I hope they find a way to expand on their success.
Jennifer Newton
The Pittsburgh Conference, or PittCon as it's affectionately known, is one of the biggest lab equipment trade fairs on the planet. There are hundreds of exhibitors dazzling audiences with their latest shiny new instruments.
Everything is that little bit better, faster, more reliable than the competition in some way or another, and as a self-confessed amateur when it comes to most of this kit, it can be hard to see through the spiel to find out what's really groundbreaking. But a few little things have caught my eye on my wander around the exhibition hall.
Atomic Force Microscopy (AFM) conjures up images of large, expensive equipment confined to the basements of laboratories. But NanoMagnetics Instruments based near Oxford, UK, has made an AFM unit that will sit on the palm of your hand, and sells for the price of an optical microscope. The company is aiming it at users who might have thought AFM was inaccessible to them – either because of price or size of the equipment. The ezAFM can be packed up into a small suitcase and taken out into the field or from lab to lab to be used wherever it's needed.
Taming GC gas guzzlers
Conserving helium is a major priority as it becomes a progressively more scarce resource. While gas chromatography (GC) probably isn't one of the biggest consumers of the gas, the shortages can make it difficult to maintain supplies in labs. With that in mind, Thermo Fisher Scientific has developed a new injector module that cuts helium consumption dramatically.
In a normal GC, as the sample is injected into the instrument, a relatively large amount of gas is used to 'split' the sample and purge the injection port, while a small amount goes through the column to carry the sample through the machine. In Thermo's new injector, the splitting and purging is done with nitrogen, and helium is only used as the carrier gas. That means that if, for example, a cylinder of helium would normally last for three months of continuous operation, with the modified injector it will last for three to four years.
Holding the key
— Waters' iKey
Microfluidics systems – from lab-on-a-chip reactors to diagnostic sensors – are increasingly popping up in all sorts of applications. Waters has developed a series of plug and play microfluidic liquid chromatography (LC) cartridges, called iKeys, that plug in to the source of a mass spectrometer (MS). The company claims that the microfluidic platform is more sensitive than other LC-MS systems, requiring smaller samples, but is also easy to use and significantly reduces solvent consumption.
What can chemists do to help create a 'virtual human'? At the American Association for the Advancement of Science (AAAS) 2014 meeting in Chicago, a panel of researchers set out their demands for the chemistry community.
But what is a 'virtual human'? Projects range from organ-on-a-chip microfluidic devices that might mimic a particular behaviour of a certain organ, through to detailed computer models that map the entire skeleton, or even simulate a human brain. Others take a broader approach, sampling thousands of biomarkers from thousands of healthy individuals to chart the variability and dynamism of human biochemistry.
It's a subject that exists at the interfaces chemistry, biology, physics and computer sciences, and has obvious medicinal potential in allowing us to develop new drugs in silico or helping us to treat existing patients.
Underpinning all of this work is chemistry, but each project places different demands on the chemistry community. 'I think what is really important for the study that's going to look at a whole series of different individuals is to develop techniques, measurement techniques or imaging techniques, that can explore completely new dimensions of patient data space' offered Leroy Hood, co-founder of the institute for systems biology in Seattle, US. 'So I think what is really going to be critical is … the development of highly miniaturised, highly effective devices for being able to make measurements. For example, I'd like to have a microfluidic chip that could measure 2500 proteins in the blood accurately. … There are new chemical approaches that I think within 5 years will enable us to do this and then convert these assays on to a microfluidic platform so you can take a fraction of a droplet of blood and in 5 minutes you can make 2500 measurements. It will let you assess wellness for near 50 major organs, so these are the kind of things we need.'
These tests would need to be fast, highly specific and work with minuscule samples, but there is also the demand for these techniques to be cheap: 'we need to be able to make reagent technologies for genome sequencing, for example, at a much more affordable price' adds Vijay Chandru, chairman of Strand Life Sciences in India, where he's been overseeing the development of a virtual human liver. 'That requires innovation from chemistry. You talk about a thousand dollar genome but it really is much more expensive to actually sequence a genome and I believe that chemistry can bring the cost down.'
Hood also argues that we need to improve our ability to see on the macro scale at molecular resolution in order to better understand our most complex organs: 'the other thing that I think is really critical is imaging. I think in the end the only way we're ever going to understand the brain is to be able to do molecular in vivo imaging in the context of whatever operations you're interested in.'
Peter Coveney of University College London wants chemists to push out of their comfort zone: 'What I'm interested in is chemists looking at life in a more interesting way. That means studying systems out of equilibrium. It still shocks me how much of chemistry is stuck in an old fashioned equilibrium style approach, and studying complicated non-equilibrium systems begins to address these network issues. And also the patient specificity and accuracy of the calculations that we're alluding to is something that these people need to address.'
Finally, Christian Jacob, from the University of Calgary, Canada, pointed out that more data and more complicated models will require researcher teams with a wider range of skills. 'We also need more computational chemists, because there's actually a huge gap between people who gather the data and who is going to build the metadata, the meta models around the data. Eventually they have to be encouraged to actually be able to work with the data.'
So, can your work help create a virtual human?
Just when we all thought the tube couldn't get any worse, frustrated commuters in London last week were treated to the news that, due to an engineering mishap, a signal control room for the Victoria line had become flooded with fast-setting concrete, forcing the line to temporarily halt.
— © UsVsTh3m/Twitter
Then things got even weirder… the news reported that when the sludgy mess was discovered, staff had rushed to nearby shops to buy bags of sugar to throw on it. This, they said, 'stops the concrete from setting so quickly' so it could be cleaned up before it damaged equipment. This intrigued us in CW office – why sugar? It seems bizarre that something so simple and readily available could have this effect.
It turns out this trick is well known in the construction industry, and builders often use small amounts of sugar or sugary liquid as an instant retardant for concrete on hot days, to stop it setting too quickly and cracking.
Sugar disrupts the setting process by preventing the hydration reaction between water and cement – a key ingredient of the concrete mix containing calcium, silicon and aluminium oxides. Dry concrete mix contains cement together with a coarse aggregate – usually sand or crushed gravel. When water is added it reacts with the cement's components to make a thick paste which hardens to bind the aggregate together.
Throwing sugar into the mix interferes with the hydration process, although the exact mechanism is still a bit of a mystery. One theory is that the sugar molecules coat cement particles and prevent them clumping together to form a smooth paste. Another suggests that the sugar reacts with aluminium and calcium in the cement to make insoluble complexes. These interfere with the hardening process and leave less Al and Ca available to react with the water. Some sugars work better than others (white refined sugar works well, while the milk sugar lactose only has a moderate retarding effect), and salt acts in a similar way. The cement hydration process itself is not fully understood, and there are likely to be several interactions at play.
The more sugar you mix in, the longer the concrete takes to set, and if the sugar concentration exceeds 1% of the cement mixture it will refuse to harden altogether. While this effect can be useful, it does have its downsides. Because sugar is not usually considered hazardous, dry concrete mix can easily become contaminated while it is being transported. The Australian company CSR, which used to produce both sugar and building materials, once had to recall a whole shipment of cement after it used one of its bulk sugar boats to transport aggregate.
As for the signal control room at Victoria, it seemed the sugar did its job long enough for the concrete to be scooped out – the trains were back to normal the following day.
For the last couple of years, I've been honoured with an invitation to join the judging panel on the Cambridge heats of FameLab, an international competition to 'find the new voices of science and engineering across the world'. FameLab was set up by the Cheltenham Science Festival (in partnership with Nesta) back in 2005, and aimed to 'find and nurture scientists and engineers with a flair for communicating with public audiences'. After developing a link with the British Council in 2007, FameLab has been intent on global domination, and with more than 23 countries competing in 2013, seems to be well on the way to reaching that goal.
To test the mettle of our aspiring science communicators, each challenger must prepare a three minute presentation. Time is tight, and there's usually a strong incentive to stop at the 3 minute mark (in our case, the sound of an awful squeaky dog toy, drowning out your big punchline). As a judge, I'm asked to evaluate each presentation on 'the three Cs': content, clarity and charisma.
Everybody (well, almost everybody) who takes the stage is well prepared, knowledgeable and enthusiastic, so it can be hard to divide them. After all, who am I to tell a physicist that her 'content' on dark matter isn't strong enough?
To try to balance out the personal understanding and subconscious biases, FameLab invites a number of judges from different fields, but even if that helps to smooth the content quibbles, the wildly subjective 'charisma' category can lead to heated arguments on the judging panel. 'Clarity' at least seems a fairly straightforward measure – how well did I understand you? But even that leaves questions – what's an acceptable level of verbal shortcut before we start 'dumbing down'?
Organised by the Cambridge Science Festival team, our local final is this week, and so far we've seen 20 engaging, thought provoking and entertaining performances from new and established researchers, covering topics including crystallography, materials science, stem cells, worm holes and 'the planet that never was'. I'm really looking forward to the final, where the 10 best performers will have to face the judging panel again with brand new material, and we'll pick a winner to send to the UK final later in the year.
Regardless of who will win this week, FameLab as a movement goes to show how excited, enthusiastic and skilled young researchers can be at telling the stories of their science.
If you think you can communicate science with flair, then keep an eye on the FameLab website for local opportunities. If you're better behind the keyboard than on stage, why not apply for the Chemistry World science communication competition?
The Cambridge University science magazine, BlueSci, have created a playlist of the finalists so far:
And a public vote will put four of the remaining hopefuls through:
Last week, the Science Council released a list of their '100 leading practising scientists'. Their aim in publishing the list was to 'highlight a collective blind spot in the approach of government, media and public to science, which either tends to reference dead people or to regard only academics and researchers as scientists.'
The Science Council is an umbrella that brings together 41 learned societies or professional bodies, including the Institute of Physics, the Society of Biology and of course, the Royal Society of Chemistry. To arrive at their list, member organisations were invited to nominate individuals who 'who are currently engaged with UK science that other scientists might look to for leadership in their sector or career'. They then convened a representative judging panel to knock it down to a round 100.
The Chemistry World team looked through the list and realised that it contained a number of familiar names (perhaps no surprise, as the Royal Society of Chemistry is one of the organisations called upon to nominate), so we thought we would highlight some of the Science Council's top 100, explaining how and why they appeared in the pages of Chemistry World…
Not only the winner of the 2008 Chemistry World Entrepreneur of the year for his role in the spin-out company Oxford Nanopore, Bayley's work has been highlighted in our news and feature articles over the years. Here he's recognised for 'ground breaking research into the structures and properties of biological molecules', including engineered membrane proteins that may allow for affordable and reliable DNA sequencing. He also joined us on the Chemistry World podcast to talk about his work 3D printing tissue-like materials.
The Science Council recognise Cronin as someone whose star is in the ascendant, and he's certainly not coy about his ambitions.
In a feature on the origins of life, we discussed Cronin's work on self-assembly and self-organisation but he's also graced our pages for 3D printing bespoke labware and even miniaturised fluidic devices. His productive team at the University of Glasgow have also published on efficient electrolysis systems for production of useable hydrogen gas.
As one of the fathers of graphene , Geim's work turns up in almost every edition of Chemistry World since he jointly won the Nobel Prize in Physics with Konstantin Novoselov in 2010. Although the news is not always good, new understanding and potential applications of graphene are regularly published in the scientific literature. From fluid filters, transparent loudspeakers, carbon capture devices, and antimicrobials, we try to keep abreast of the range of applications.
The idea of working with biting insects may make your skin crawl, but John Pickett has been at Rothamsted Research for over 30 years, investigating what it is that makes some people so appealing to pests, while others seem to remain bite free. His work on volatile chemicals and their interactions with insects have regularly made our news pages.
Christopher Evans
Biotech entrepreneur and microbiologist turned biochemist Christopher Evans may not feature in the magazine for groundbreaking science, but he has a significant impact behind the scenes through investment and entrepreneurship. As well as heading up the Merlin investment partnership, Evans campaigns for more public-private partnerships in science funding. He certainly made his mark on our own Bibiana Campos-Seijo when she met him, according to her editorial in April 2012.
Recognised here for 'his work in the applications of chemistry to biological and medical sciences and as the principal inventor of the leading next generation DNA sequencing methodology', we've featured Balasubramanian's work on sequencing and epigenetics, as well as his successful bids to secure conspicuous amounts of funding for multidisciplinary work.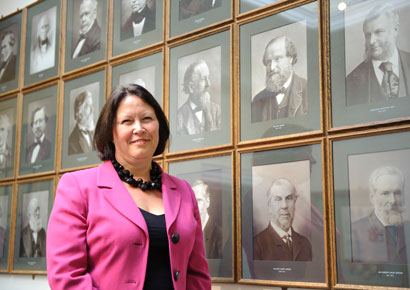 The Royal Society of Chemistry were delighted to see their first female president included in the 'communicators' section of the science council's list, as Yellowlees has been outspoken on issues surrounding science policy, funding and diversity. The election of the first female president of the Royal Society of Chemistry 'made a big impact,' she told Laura Howes for our feature on women in science, 'but in a way it's a shame that it was worthy of remark.' She is recognised by the science council for 'being a public champion for more women in science', and has helped Chemistry World look back at the history of chemistry at Edinburgh university, where she is head of the science faculty.
As an engaging science communicator with a PhD in thermoelectronics and one of the Royal Society of Chemistry's 175 faces, it's perhaps unsurprising that Gallagher has graced our pages, most recently with an insightful analysis of the countries of origin for each of the elements of the periodic table.
He's also a passionate advocate of equality and diversity in science, telling the Royal Society of Chemistry that 'science is for everyone and we have hundreds of years of history to correct, we are making fast progress but until equality is achieved across the board, until anyone who wants to pursue science has that ability then we must continue to fight.'
The value of education is highlighted by the science council selecting 10 'teacher scientists', including John Holman, who in addition to being emeritus professor in the department of chemistry at the University of York, is a senior fellow in education at the Wellcome Trust. He has written for Chemistry World on trends in high school chemistry teaching, and was the first director of the National Science Learning Centre in York.
Last but not least is Peter Wothers, a teaching fellow at the department of chemistry, University of Cambridge. The science council recognise him for 'his role in helping to bridge the transition between sixth-form and university through his leadership in developing the syllabus for the Chemistry Pre-University qualification', but Wothers is a renowned science communicator, performing to packed houses at the Cambridge Science Festival and delivering the 2012 Royal Institution Christmas lectures. This hasn't stopped him from finding time to contribute to a Chemistry World feature on 'inspiring the next generation', being profiled in our jobs pages and telling the stories of compounds on the Chemistry in its Element podcast.
We're running a series of guest posts from the judges of the 2013 Chemistry World science communication competition. Here, Chemistry World editor Bibiana Campos-Seijo adds her thoughts on 'openness in science'.
I've very much enjoyed reading the posts by my fellow judges. All interpret the theme of the competition in very different ways but one of the threads I picked up is that most focus how openness affects the relationship between the scientist and others – eg between the scientists and the publishers of information – with Philip Ball calling for a preprint server for chemical papers to encourage debate, engagement and the swift dissemination of information – or between scientists and the media with Adam Hart-Davis drawing on his own experience.  
I input 'openness in science' into a Google search (most people would never admit to doing this but it helps me focus, refine and polish my thoughts and ideas when I can't find a way to articulate them appropriately and/or swiftly) and that same thread continues with small variations.
One of the top results is a study launched in 2011 by the Royal Society titled 'Science as a public enterprise: opening up scientific information'. Its focus was to determine how the sharing of scientific information should best be managed to improve the quality of research and build public trust. The report concerns openness in relation to the interaction between the scientist and others, in this case the public.
Another result that caught my eye was a document titled 'The value of openness in scientific problem solving'. The focus in this case was information sharing between different scientists and the role that collaborations have in the scientific process. The theme once more is openness in relation to the interactions among scientists.
What strikes me is that there is very little mention of openness in relation to the individual. For me, openness is all about the person and is an attitude that is at the core of what makes a scientist. How s/he then chooses to interact or share with others is somewhat secondary and in many cases is done via pre-existing routes (eg publishing, scientific conferences, etc). Openness and an open mind are vital to understand the scientific process and the challenges it brings, to foster innovation and to embrace and implement new discoveries and technology as they come along. Of course, it is also about being open to discussion and challenges by others but openness at the level of the individual is, in my view, vital to the definition of a scientist.
Obviously there is no right or wrong answer and openness is all of the above. However you choose to interpret it, we are looking forward to receiving your entry and are very excited to be supporting this competition once again.
Bibiana Campos Seijo is the editor of Chemistry World and magazines publisher for the Royal Society of Chemistry. After completing a PhD in chemistry, she ran her own e-learning business before moving into publishing first as a technical editor for the European Respiratory Society and then managing a portfolio of pharmaceutical titles at Advanstar Communications. In 2009, she moved to the Royal Society of Chemistry to lead the Magazines team.
We're running a series of guest posts from the judges of the 2013 Chemistry World science communication competition. Here, science writer and broadcaster Quentin Cooper  explains his interpretation of 'openness in science'.
How do you feel about judging a science communication competition?
I'm always a little resistant to judging, because it's always dangerous to judge anybody else. One of the things you're trying to encourage in science communication is innovation. There's always a slight danger of turning up and being the 'old guard' accidentally – those of us who already do it standing in judgement of those who are finding new ways to do it. We have to be careful because something that we think is not a good way, because it's something terribly new and terribly different, might actually turn out to be something brilliant. With that caveat, I'll do anything I can to encourage good science communication.
Science is everywhere, it is everything, and yet there are still too many people around who think it's not relevant to them.  That's not down to the science, that's down to the communication of the science. Therefore anything we can do to make that science reach everybody it deserves to reach, which is the entire population of the planet, is only to be encouraged.
That brings us on to the theme of the competition, which is 'openness in science'.  What does that mean to you?
I can't be the only person who has spotted that what we're doing at one level is awarding individuals for their ability to talk about how a lot of science isn't about individuals – it's about collaboration and helping each other. So many of the great advances of science are not, as we like to think, down to one lone genius, but to ideas that the time has come for.
There are obviously lots of meanings of openness: there is not concealing things; there is being full, free and frank. But openness, as I see it, is more about the historical advances that have depended to some degree on collaboration, on pooling knowledge, on sharing.  And on modern systems, for instance, the way that the internet allows almost instantaneous feedback to experts and access to people on other levels.
There are all these different aspects which have to be both good in themselves, and to echo the real nature of science. This is not, as the public like to think, about one person who has an amazing brainwave, but has always been about ideas, and by a back and forth between scientists that is accelerated by modern technology, they're able to come up with the next advance.
You don't have to go back very far at all to find a situation where someone would publish something in a peer-reviewed journal, and then eventually there might be another paper that would pick up on it, saying 'We've tried to replicate those results, but we can't' or 'Could there actually be another explanation for these findings?' The whole dialogue will take place, but it would take place in almost geological time. Now what can happen is that because that person will have an email address published in there, there will almost instantly be feedback. Suddenly the whole speed at which you advance and go on from an idea is greatly accelerated.
But 'openness in science' is not just about greater communication between peers.
It's getting people to meet up who would never previously meet up. Partly because of the nature of the technology, but also because a lot of universities and academic institutions are pushing this idea of bringing people together from different disciplines and seeing what happens when you put together a particle physicist with a fashion designer, or a geologist and a systems biologist. Sometimes they end up with crazy projects that go nowhere, but now and again you are finding new things happening. It's a proactive evolution that is taking place, and you can encourage that by bringing people together.
What are you expecting from the competition?
I don't know yet, is the honest answer. At one level, you need a good idea and you need clarity of expression. But if we're talking about good communication, it's dangerous to be prescriptive. There could be somebody who comes along and bends the rules in a weird way. This year, as well as written entries, we have storyboards and scripts, so that opens up all sorts of possibilities. If I said now that 'this is what I'm looking for', then somebody might come up with something that completely doesn't fit that. And I rather hope they will, I'm looking to be a little bit surprised. I'm hoping for some adventurous science communication.
Quentin Cooper hosts a diverse range of events in Britain and beyond as well as appearing regularly on radio, TV and in print. He's one of the most familiar and popular voices of science in the UK, writing and presenting many hundreds of programmes – including fronting Britain's most listened to science show, Material World, on BBC Radio 4 for over a decade. He also holds several honorary science doctorates and is an honorary Fellow of the Royal Society of Chemistry.
The Chemistry World office is bedecked in tinsel, ready to celebrate the festive period. And as a thank you for celebrating with us, we're going to send a Chemistry World mug to each of our favourite festive chemistrees!
On a recent trip to the chemistry department at the University of York, I spotted a different interpretation of the traditional Christmas decorations…
So we tweeted about it…
Here's the @ChemistryatYork #chemis-tree in full… pic.twitter.com/4pnQBqcC5T
— ChemistryWorld (@ChemistryWorld) December 5, 2013
The making of chemistrees to decorate labs is not a new phenomenon, we found this one last year:
Sticking with festive labs, we posted this Christmas chemis-tree from A Kleij Research Group at ICIQ last year… pic.twitter.com/x5RZDKuyF4
— ChemistryWorld (@ChemistryWorld) December 5, 2013
But we wanted to see more, so asked on twitter  - the response was phenomenal:
@ChemistryWorld from chemistry at Loughborough college love Lizzy, Emma and Paul. pic.twitter.com/KkUSZdIrXi
— Bananaclub@loucoll (@bananaclubchem) December 5, 2013
A chemistry Christmas tree! (HT @BenForScience) pic.twitter.com/W6rrcbE4Xz
— Dr Paul Coxon (@paulcoxon) December 5, 2013
.@RyanPharmilton @ChemistryWorld @ChemistryatYork @BenValsler Behold The Chemis-tree. Est. 2007 Photo by @MRKINGRUSS pic.twitter.com/29WGye6Me0
— Dr Suze Kundu (@FunSizeSuze) December 5, 2013
@ChemistryWorld Shot of a #chemis-tree from last year. pic.twitter.com/JEPs5zNYiC
— Annika Nordtveit (@KyniskKjemiker) December 5, 2013
@ChemistryWorld @ChemistryatYork the #chemistree before the red & blue dyes faded pic.twitter.com/vQy1o9qUi5
— Emma Dux (@Duxie_Em) December 5, 2013
@ChemistryWorld This was our lab tree in 2008. The colored liquids were all aqueous solutions of inorganic compounds. pic.twitter.com/5qkfAFt38R
— Monica Gill (@MGillChem) December 5, 2013
@ChemistryWorld Our 5th year Christmas Chemis-tree Dublin, Ireland pic.twitter.com/fjzNWuprfu
— Jack Kennedy (@KennedyJack16) December 6, 2013
White Bear Lake chemistry students are ready for the holidays with their "chemistree!" #chemchat @ChemistryWorld pic.twitter.com/nWKQaTmcEj
— Cassandra Knutson (@cmknutson) December 9, 2013
. @ChemistryWorld #chemistree RT @keelechem: Org labs getting in to the festive spirit at @keelechem @KeeleUniversity pic.twitter.com/9iNhSyyQ8F
— Katherine Haxton (@kjhaxton) December 10, 2013
@ChemistryWorld OSFC Chemistree! pic.twitter.com/LyQGHKciOI
— Chemistry Department (@osfc_Chemistry) December 12, 2013
Our amazing #Chemistree @RSC_Comms @StBedesCollege @stbedespress merry Christmas!! pic.twitter.com/7ZgeATkF4n
— St Bede's Chemistry (@StBedeChemistry) December 12, 2013
.@ChemistryWorld Here's our Applied Clay Sciences Christmas #Chemistree! Happy holidays everyone! pic.twitter.com/LmXwvTDioc
— Ryan Hamilton (@RyanPharmilton) December 13, 2013
@ChemistryWorld @Chemistry_cat_ Thought you might like Farlingaye high school's #chemistree pic.twitter.com/Q6vKiI6Tlq
— Farlingaye Chemistry (@FHSChemistry) December 13, 2013
Another multicoloured chemistry Christmas bauble @ChemistryatYork @ChemistryWorld #realtimechem pic.twitter.com/V0Srqmbhpf
— Emma Dux (@Duxie_Em) December 12, 2013
A rainbow chemistry christmas bauble @ChemistryatYork @ChemistryWorld #realtimechem pic.twitter.com/D17MqNEaPt
— Emma Dux (@Duxie_Em) December 12, 2013
Want to get our #Chemistree into the mix. @ChemistryWorld pic.twitter.com/4DhbWJ88sN
— Michael Geyer (@234chem) December 16, 2013
They just keep coming!
Want to get our #Chemistree into the mix. @ChemistryWorld pic.twitter.com/4DhbWJ88sN
— Michael Geyer (@234chem) December 16, 2013
@ChemistryWorld here's ours, complete with various ionic solutions, plus a couple of indicators. pic.twitter.com/o7dmEZ6lKX
— William Green (@7wgreen7) December 16, 2013
@ChemistryWorld We'd like to submit our #chemistree to the running! pic.twitter.com/tTHy8zVCnM
— Davis Research Group (@APDChem) December 16, 2013
Here's our #Chemistree @ChemistryWorld #9 daystogo pic.twitter.com/oL0q3N9BLl
— Jessica Bonham (@jabonham8) December 16, 2013
@ChemistryWorld Tried our best – what do you think of our Chemist-tree? pic.twitter.com/mPuMh2kBvo
— Rhod Jenkins (@rhodrij) December 16, 2013
@ChemistryWorld a poor and humble Chemistree, but made with all the affection and respect. Merry Xmas!! pic.twitter.com/1eYauPdR60
— César Gtz Quevedo (@CesarGtzQuevedo) December 16, 2013
This has got to be the best Chemis tree…@ChemistryWorld pic.twitter.com/2eaN9FNmyc
— HCC_Chem (@HCC_Chem) December 17, 2013
Our chemistree @ChemistryWorld pic.twitter.com/pGpge6mbAo
— Emma C (@EmmaKCorbin) December 17, 2013
@ChemistryWorld @NottsHigh a (Nottingham) Forest of Chemistrees by our Y10 chemists… #chemistree pic.twitter.com/DoZjyHGGGq
— NHS Chemistry (@NHS_Chemistry) December 18, 2013
Harrison Central's Chemistree @ChemistryWorld #chemistree pic.twitter.com/TtOOTT78Tp
— Samantha Craig (@SamGraceCraig) December 18, 2013
@ChemistryWorld Festive #chemistree designed by chem I students at Highland High School pic.twitter.com/FIZfFQX1SU
— Kristie Simmons (@krsimmo) December 18, 2013
@ChemistryWorld Here is the Air Academy High School #chemistree that was made my the ChemClub at our school! pic.twitter.com/ZShadpsq6k
— Colin Adams (@CMAman96) December 18, 2013
Our #chemistree decorated with glassware treated with Tollen's to turn them into silver baubles. @ChemistryWorld pic.twitter.com/IcGK6AxQde
— Chemistry at Hull (@HullChemistry) December 19, 2013
Our #chemistree at the School of Pharmacy at the University of Oslo @unioslo_mn @ChemistryWorld pic.twitter.com/eftW1T0HoF
— Anders Vik (@andervik76) December 19, 2013
@ChemistryWorld this is our chemistree! #inholland pic.twitter.com/zepM3OQbqw
— Lieke van Hemert (@lvhemert) December 19, 2013
@ChemistryWorld The biology team are jealous of our #bhasvic #chemistree pic.twitter.com/dq8xCV3uXb
— BHASVIC Chemistry (@SJC_Chemistry) December 20, 2013
Happy Christmas Chemists! Tollens, TMs, Indicators & good ole wax
@ChemistryWorld @RLSChemistry #chemistree pic.twitter.com/N0sE4ZfoJE
— Kat Day (@KatLDay) December 20, 2013
We liked these so much that we'll pick our five favourites, and send a Chemistry World mug to each one – keep an eye out on our twitter and facebook pages to see which trees win!
A further trawl of twitter showed that we were not the only ones getting festive!:
Xmas decorations are up in the lab. Amazing what you can do with a few round bottom flasks! #sciencemeetsdesign pic.twitter.com/gQqKdMCGRM
— Sketching Science (@sketchingsci) December 5, 2013
One for chemistry / science teachers! #scichat #stem #edchat #education #Christmas pic.twitter.com/z4STLfIpGz
— Jason Elsom (@JasonElsom) December 8, 2013
Oh chemistree, oh chemistree, how lovely are your beakers
Success in science is a tricky thing to measure. The existing frameworks use journal output, number of successful PhD students and amount of grant funding achieved as metrics by which to measure scientific success.
But this certainly isn't the only way for scientists to succeed. Once you break out of the confines of academia and into the world of business and enterprise, the criteria change dramatically.
I've recently been visiting people who have been winners of the Royal Society of Chemistry's Emerging Technologies Competition. These are researchers who have developed their scientific research into a marketable product. Some ideas are already spun out into businesses, with funding and a solid business plan, others are still within their parent university, their promising product prepared and proven, but not yet part of a business structure.
There's one thing they all have in common – entrepreneurship. Each researcher or group that applies for the competition has the spark to recognise the possible commercial applications of their science. A great deal of scientific research fails to realise its commercial potential – it falls into the 'valley of death' – but those that succeed usually have someone with vision and determination pushing them through.
The Emerging Technologies Competition recognises these people early in their career, but with the Chemistry World Entrepreneur of the Year award, we hope to identify those who have leapt the deadly valley and landed on secure footing. The award recognises their achievements and encourages others to do the same, to see the potential in their research and to understand how to make it happen.
Science needs diversity. And a diverse way of defining scientific success will help to spur further scientific developments and inspire the next generation of scientists. Of course we celebrate the Nobel laureates and those that expand our understanding of the world through their research, but we should also celebrate those who extend science into the commercial arena.
So do you know anyone who has successfully bridged the valley of death? Someone who saw real commercial application in their research, and demonstrated the determination needed to see that potential through? If so, please nominate them for the Chemistry World Entrepreneur of the Year award, and join us in celebrating all kinds of scientific success.
We're running a series of guest posts from the judges of the 2013 Chemistry World science communication competition. Here, science writer and Chemistry World columnist Philip Ball considers the place of chemistry in open science initiatives.
In the energetic current discussion about openness in science, chemistry has been largely absent. With the one obvious exception of drug trials – how can we encourage pharmaceutical companies to be more upfront with their findings? – chemistry seems to have been lost somewhere in the space between the life sciences, where the focus is on the accessibility and intelligibility of huge data sets, and physics, where open-access and participatory crowd-sourcing are already well advanced in projects such as the arXiv preprint server and Galaxy Zoo. Perhaps another way of saying this is that it is less obvious what is at stake for chemistry. Might it have continued to thrive on the basis of old models of how science is done, if left alone to do so?
My own view is that, among other things, a preprint server for chemical papers is long overdue, and I would rejoice if some enterprising institution were to initiate one. Partly this is selfish – for a science writer like me, the physics arXiv is an absolute boon for searching out interesting stories at the early stage, although of course this relies on the reader possessing some mechanisms for selectivity and discretion that do not depend on traditional peer review. But it is also invigorating to see how the arXiv has fostered a culture of active debate and engagement among physicists, in which responses to claims and controversies can be rapidly disseminated. That is something any science needs.
A preprint server for biology, called bioRxiv.org, has just been launched by Cold Spring Harbor Laboratory Press, and one for chemistry surely can't be far behind. But that's not to say that the model established by the arXiv has to be copied by the other sciences – there's no unique way to go about disseminating and discussing preprints. I'd be interested to know what chemists in particular need and might look for in such a thing (I'd rate graphical abstracts as a must, for instance).
On the issue of data, I have encountered many debates and discussions about specific results and claims that require access to crystal structure data or simulation code. There's no longer any argument for why such details cannot be made available, both during peer review and on publication. What's more, computational tools appear to be moving towards greater standardization, so that for example raw data can be checked using off-the-shelf software. And the rise of well informed and well subscribed science blogs offers a growing forum for debating the issues free from the sometimes cumbersome procedures of traditional publishing.
Developments like this do seem to be cohering into a genuinely new way to do science – to forge collaborations, analyse data, share resources, communicate and assess results. No one yet knows what that will mean for time-honoured mechanisms of funding, networking and publishing, although one hopes that it might at least remove some of the entry barriers experienced by smaller laboratories or by researchers in developing countries. I'd love to hear what visions people have!
Philip Ball is a freelance writer. He previously worked for over 20 years as an editor for the international science journal Nature. He writes regularly in the scientific and popular media, and has authored many books on the interactions of the sciences, the arts, and the wider culture. Philip also writes for Chemistry Worldand has a regular column – 'The Crucible'.
As we mentioned here before this week saw the very first Chemistry World Jobs Live event, held in the Royal Society of Chemistry's London home, Burlington House. The queues outside and happy faces inside seem to suggest that it was a resounding success.
Over 250 people visited on the day to meet representatives from universities, recruitment agencies and industry. If meeting potential employers wasn't enough, delegates could opt to have their CV spring cleaned by the Royal Society of Chemistry's careers advisors, and explored alternative career routes by getting involved with the 'meet the experts' panel discussion.
All the delegates ready for the second session of #CWJLive @thechemcentre pic.twitter.com/BokwjDDo4Y
— The Chemistry Centre (@thechemcentre) November 25, 2013
Speaking to attendees, the watchword was opportunities:
'I'm finishing my PhD, writing up my thesis, so I wanted to look at what opportunities there are available for me as a PhD graduate.'
'I'm looking for new opportunities to move my career on. I'm currently undergoing a redundancy situation that is not yet resolved, so I'm trying to look into the future a little bit and look for potential new opportunities.'
'I'm now at the stage when I'm looking for graduate work. [I thought] this would be the perfect opportunity to come along, do a bit of networking, talk to some people. Because I'm still at the point where I don't actually know what I want to do for a living yet!'
 'I'm looking for a change in emphasis in what I do. Get out of the lab; maybe get into a project management role or consultancy. I thought I'd come along and see what there is on offer.'
[Okay, that last one doesn't actually use the word 'opportunity', but they were probably thinking it.]
Chemistry World Jobs Live: like speed dating for your career. But what makes you love your job? #CWJLive pic.twitter.com/eKSWH5sKeG
— Ben Valsler (@BenValsler) November 25, 2013
For the twenty six exhibitors, including big names like GSK, Pfizer, AWE and AstraZeneca, it was a chance to test the waters of their future employment pool, and encourage the best to think of applying to them first. Their feedback after the event showed how they benefited from an event that outwardly is targeted at jobseekers:
'From an exhibitor's point of view it all went off very smoothly … The 'standard' of the delegates was very high and we were pleased that a significant proportion of them were what we might describe as being 'experienced researchers' … the day was of quite significant value to us in so far as it helped to build our profile with a number of young people who will only be applying in 2014.'
'Thanks for putting on such a great event yesterday, I felt it was really beneficial for the business to increase its visibility.'
The 'meet the experts' part of the day was perhaps harder to quantify – rather than speaking directly to a potential employer, this event was a way to discuss other aspects of career progression.
'The panel discussions were lively and well attended' explained Bibiana Campos-Seijo, editor of Chemistry World and member of the panel. 'The panellists had very different backgrounds and included among others representatives from Saudi Aramco, Hexcel, Royal Society of Chemistry, University of Bradford and none other than TV personality Ricky Martin, of The Apprentice and Total Wipeout fame now heading Hyper Recruitment Solutions in partnership with Lord Alan Sugar. We had an entertaining and diverse spread that reflected experiences both in academia and industry but also gave a flavour of some of the options that are available to those who wish to pursue an international career in the chemical sciences.'
The panel discussed alternative routes into chemistry careers, the value of having a PhD and the drama of facing redundancy. Bibiana noted that, in spite of the different experiences on the panel there were some common themes in the advice meted out to attendees. 'Remain flexible – plans don't always go as intended so be prepared to adapt and fully embrace plan B. And be opportunistic – remain resourceful and proactive, not letting opportunities pass you by.'
This approach certainly hit the mark for one attendee, who beamingly explained: 'I was very pleasantly surprised; I'm very pleased I went. It was very inspiring to hear what they had to say … it really reinforced my enthusiasm and I thought it was very inspiring indeed.'
Chemistry World Jobs Live will return in 2014!
We're running a series of guest posts from the judges of the 2013 Chemistry World science communication competition. This time, writer and broadcaster Adam Hart-Davis explains why he thinks openness is a benefit to all.
As researcher, then producer, and finally presenter, I spent 30 years in television, trying to get across to the general public scientific ideas, from why banana skins are slippery to the detector experiments at the Large Hadron Collider.
In the science office at Yorkshire Television, I was surrounded by creative people, but I noticed they came in two varieties. Arriving at the office in the morning with a new idea for an item or a programme, some (afraid of theft or ridicule) would go into a corner, scribble secret notes, and phone advisers; others would tell everyone about the idea, and ask for comments. This latter, open approach was hugely more successful. Some proposals would get instantly laughed out of court, but most would provoke arguments, sometimes heated, and these arguments always improved the basic idea.
In other words, openness paid off handsomely; taking the apparent risk of sharing the idea was almost always beneficial.
The same principal applies to practising science; the more scientists share their ideas the better the outcome is likely to be. Joseph Priestley made have regretted telling Antoine Lavoisier about his discovery of "dephlogisticated air" but at least Lavoisier coined the sexier name oxygen.
When I worked in a lab – a long time ago – I learned a great deal from watching and talking to my colleagues – theoretical ideas, tips of technique, and so on – and I am convinced that the more you share the more you gain.
Adam Hart-Davis is a freelance writer and broadcaster – former presenter on television of Local Heroes, Tomorrow's World, What the Romans (and others) did for Us, How London was Built, and many others. He has collected various awards for both television and radio, as well as two medals and 14 honorary doctorates. He has read several books, and written about 30. He spends a lot of time hacking at green wood, making chairs, tables, egg cups, bowls, and spoons.
A chance to find your dream job?
More and more, we conduct our lives online. From shopping to socialising, there's nary an activity that hasn't been supplemented or supplanted by the electronic ether, and the internet is never far from our fingers.
Shortcuts through cyberspace make the world smaller, but some lament that this comes at the expense of conventional contact and communication, and in fact pushes us further apart.
Online job searching is perhaps one of the more innocuous, indeed welcome, invasions of life lived remotely. Most job hunts are likely to begin with offering up a few key strokes to a database and end with a fingers-crossed click to dispatch a payload of personal data. Your first encounter of the third kind with an alien employer will probably be a handshake on the day of your interview, should your digital demeanour persuade them to pause upon your CV.
But for all its convenience, we should be wary that our reliance on technology doesn't diminish the personal interactions that are still so essential. We spend so much of our lives in our workplaces, our colleagues and customers see more of us than our families. But unlike families, you actually get to choose your job. Spending some time getting to know your could-be employer helps both of you know if the relationship will work. It has costs: time, effort and possibly money, but that's a small price to pay to give yourself the best chance of landing the job you want.
At the end of November, we'll be running our first careers fair, at Burlington House in London. An impressive selection of chemistry employers – big and small, global and local – representing all aspects of the chemistry industry will be there, and looking to recruit. The Royal Society of Chemistry's careers advisors will also be on hand to offer their assistance. In one day, you can meet over 20 potential employers, speak to the people that work there, and learn what they do just by turning up and saying hello. And they get to meet you – a person, not a pdf.
Chemistry World Jobs Live will be held on 25 November, at the Chemistry Centre, Burlington House, London. You can find out more here, or register to attend here. We'll see you there!